The One Thing that's More New York than Times Square and Central Park and 99c Pizza and really big fruits.
Here she is folks:
The Lady Herself!
(As a side note, I just googled 'what's the most New York thing' and got this: "From baseball and pizzas to Times Square and yellow cabs….", and then got mad at myself for not trying the yellow crab while I was there…..and then realised it's time to go to bed.)
On the Day of the Lady, we spent the morning driving around the beautiful area near Sameer's Uncle's home….
.. and then in the early afternoon headed into the city.
Our first stop was the Twin Tower Memorial, twin waterfall pools that list all of the victims of the 9/11 attacks.
I don't think I really managed to catch it properly with a camera, but that's probably often the case for a memorial or similar…
We looked around for a bit, and took it in, and Sameer and his Uncle recounted how it was to be in New York in those times.
Behind the memorial, is a kind of feathery, kind of boney structure:
We originally thought that this was a museum, and would be closed….
But it turns out its a gigantic shopping mall/ underground train station
Known magnificently as the Oculus (I guess because it's kind of round and dome-y?), it was designed by Santiago Calatrava Valls, who I think might now be one of my new favourite architects.
A couple of months after visiting NY, I strolled into Brookfield Place in Toronto and was immediately certain that the beautiful structures of the atrium and galleries were designed by the same person (spoiler alert: they were).
A little bit rib cage. A lot a bit cool!
Our original plan had been to go up to the One World Observatory viewing deck to look over the city. Luckily, in a case of uncannily honest marketing, the ticket office not only had signals saying 'it's too foggy to view', but also literally had a photo (which as far as I know, was just a piece of grey cardboard), to show how bad the visibility would be one at the top.
So instead, we loitered a bit in the mall, and then walked on through the city.
Passing the very famous 'Bull of Wall Street', who is apparently nearly as well known (to people a bit more cultured than me) as Wall Street's Wolf.
Apparently he's linked to the Black Monday collapse of 1987.
Of course, being a bronze statue, it is expected that you rub certain parts of him for luck.
I didn't manage, but mostly because there were too many other people getting in there.
Poor bull.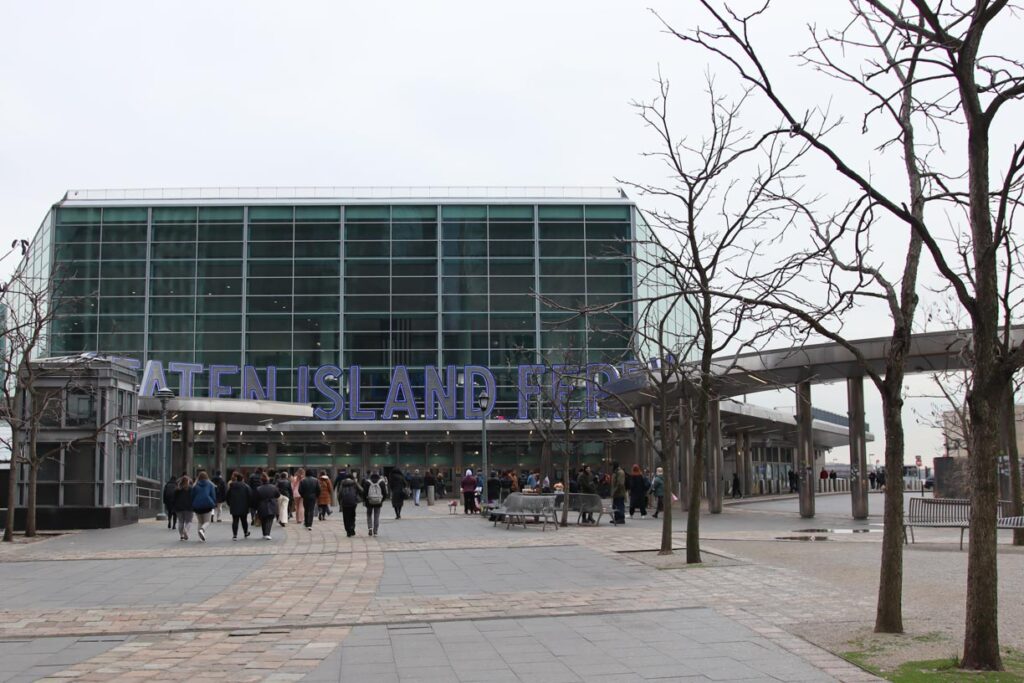 We made it fairly quickly to the Staten Island Ferry Terminal, and after just about 10 minutes of waiting were loaded aboard with the other passengers.
It was a bit chilly, but we hung out on the right (port?) side of the boat, waiting for the moment when we'd catch her in our gaze:
!!!!!!
You can only spend so long looking at a lady before things start getting weird, so after a bit of staring, and a bit of selfie-ing, we headed to the back of the boat to stare at some seagulls instead…
And then loitered/paced along the edge of the boat while Sameer's uncle regaled us with stories from when he and his friends and family were in the US back in the day…
There wasn't a tonne to do on the island itself- or rather, we didn't want to do too much that we missed out dinner reservations. But we did want to wait long enough that our journey back to the Big City was post sunset.
So that we could see it all lit up!
The photos don't really do it justice, but it was pretty cool to boat along with the Statue of Liberty coming up on our (starboard?) and the city a smallish blur of lights in front of us….
.. which gradually crept closer.
We leapt off the ferry and back into the city, past a few pretty buildings and some fancy string-art…
Behold!
And then onward to our dinner.
We went to Tamarind, one of Sameer's uncle's favourite restaurants, which he's been visiting for many years.
We ate the most succulent lamb I've had in years/possibly ever, and a range of other very delicious curries and morsels.
Then, with bellies full of delicious food, and hearts full of smugness at what a great NY day we'd just had*, we headed back home.
*The smugness might be a mostly me thing!
That's all from our incredible Ferry day!
23rd Feb, 2023