It's been a bit of time since I've posted, because of the crazy thesis ending and all. So here's a super quick post with a whole lot of photos of me wearing my assorted haul from the Latvian op-shops.
Also included, me looking really awkward, while Andy struggles to photograph me without me pulling stupid bird faces.
I've been buying second hand clothes for a pretty long time now.
Part of the op-shopping desire is because I don't really have a lot of money to spend on clothes…. or at least I don't feel like spending money on clothes is a good use for the money I have. But I want good quality when I can get it.
This top is some brand that I've never heard of, Tara Jarmon. Apparently, the stuff usually costs some several hundred euros. This is my face saying 'oh really'.
Part of the op-shopping desire is because I completely love the game of finding bargains and beauties. I actually really want to shop sometimes, but my urges go in the direction of a treasurehunt, not in the direction of 'spawning salmon shopping' where you're squeezed against 100 people trying to get the best shirt for 4.99.
This dress is pure silk, light as anything (perfect for travelling), and cost me about 2 euros at a 'pay-by-weight' second hand store. Normally, I cannot afford silk. (Although that skirt in the header photo, also second hand, also from Latvia, also silk). I kind of enjoy that one of my CV-able skills is now 'can tell pure silk by eye and/or touch'.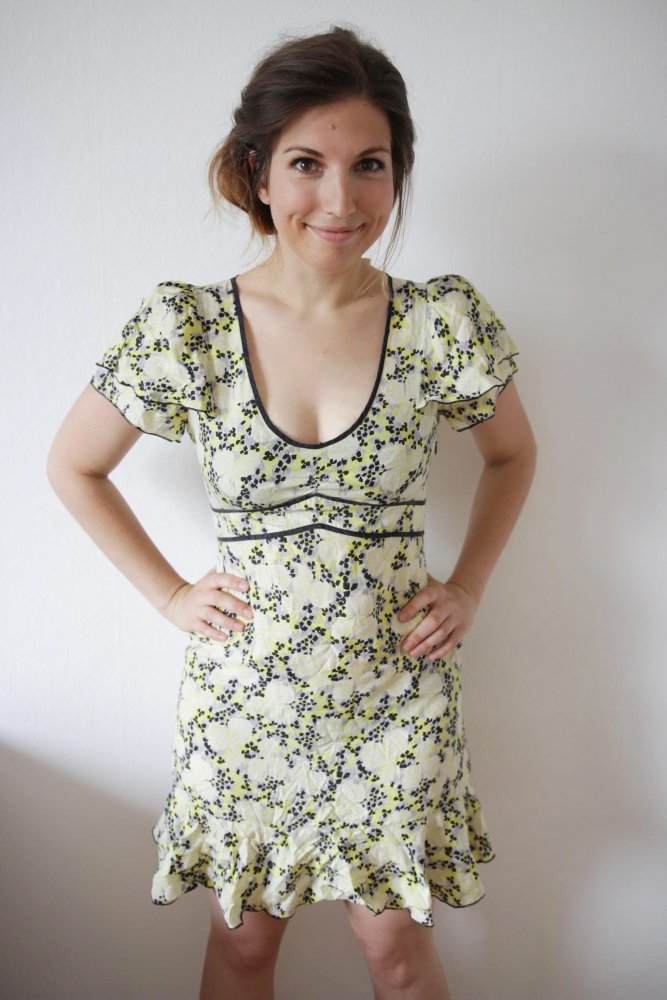 Part of the op-shopping desire is because, before my breast reduction, I used to have ridiculously large boobs. And if nothing's going to fit you anyway, you might as well get something older and cheaper where you can mess around with alterations more easily.
(also, loose shirts. Good for boobs. The skirt is also second hand, but I bought it ages ago in Berlin.)
Part of the op-shopping desire  is because I like to play dressups, and I think you're more likely to try something unusual in an environment where they don't have every single different size and style.
Frillier and 'girlier' than my usual style? Why yes, yes I shall try.
And, of course, part of the op-shopping desire is because I find fast fashion pretty objectionable (I not-so-secretly love the clothes of Uniqlo, but when I looked it up it seems like they are also screwing people over in the third world… so now I'm trying to limit those urges).
This little fellow, with its cute drums and bloomer-like skirt, is Topshop. It's one of my favourite things I bought this year. To be honest, there are always tonnes of these super cute kind of flattering style dresses in stores like Zara or H+M… but I feel that most of the time, shopping for clothes is like eating meat: more habit than necessity. I like to express myself and wear colourful clothing, but I also want that person that I'm expressing to be a bit less of a horrible little consumer.
So here is some second-hand cuteness.
Anyway, I fell off the wagen a bit with the second hand when I first came over here, and got into the idea of buying cheap stockings and undies and even a dress at Primark. So. Cheap. Also, Berlin is full of hipsters, and a low wage-low cost of living society, which means not much good turns up in the second hand shops, and what does is pretty quickly scooped up (unlike Perth- lots of treasures from people who have too much money and wear things once). On top of that, working out prices at flea markets is super hard when you don't have the language skills to haggle.
But I'm trying to take a bit more responsibility for my actions, and it's anyway pretty clear after a few wears, that with places like Primark you get the crappy quality you pay for.
I recently watched the documentary 'The True Cost' on Netflix. To be honest, I wanted to love it, but I found their anti-GMO rant in the middle just so distracting. I get that everyone hates Monsanto (I'm sure they're well worth hating), but the film started quoting strange 'facts' about the link between Monsanto and farmer suicides in India (as far as I can tell, suicide rates are very high, but have not actually increased since the Monsantoisation of farming: this is the kind of the thing that everyone who has ever worked on GMOs looks into at some point). It's just so dishonest, and it made me question the veracity of their reporting in general.
Still, it's pretty obvious that we shouldn't be using clothes like disposable napkins and that the industry in it's current state is just so, so screwed up.
By the way, here's that Tara Jarmon top again.. with a matching skirt.
I completely plan to wear it when I become the next German Chancellor.
(And for those of you who are curious about my lung removal, here is the scar).      
What do you think?
Mutti-worthy?