Don't do what we did.
After driving for a few hours, the last stretch of it through windy roads and on the edge of a mountain, we stumbled out of the car and sat down to have lunch.
And then we had a little stroll, and a little look at the mountain, and a perused the gift shop.
And only at that point did we realise that the queue for the cable car was two hours long.
So you know, when you go to Fuente Dé (and you really should go there), go straight to the ticket counter and buy your ticket.
And then. Then have your darn tuna empanada.
Luckily enough, the wait time works on a ticket system, and every 10 minutes or so they scream the numbers across the mountains.
Which meant that we could spend our two hours exploring the hillside, instead of waiting in line.
Just before the trip, knowing that there would be mountains in our near-future, I bought a new lens.
I mean, actually, I bought two lenses- the second one being the 'nifty fifty' portrait lens- but the first was an extremely wide angle lens.
All the better to see you with, my mountains.
I also bought a little selfie clicker, and brought with us Andy's orangutan tripod. Which is why half of the photos from the trip are me playing with a wide-wide angle (and really abusing it- using it in places is really has no right to be), and Andy and I staring hopefully at a distant camera.
Anyway, while waiting for our turn to be  driven up the mountain, we wander around the plain an the hills, and posed a lot next to rocks.
Which, all in all, looked something like this:
And then they called our number. We ran down, past a bunch of goats wrecking havoc on picnicers, and headed up the mountain.  
The landscape up the mountain was incredibly beautiful, in a fully otherworldly way. Sparse vegetation, grey outcrops, low hanging clouds….
…oh yeah, and goats!
Note that these photos, above, represent Andy at his bravest.
His general mantra, held throughout the hike at Fuentes De, and throughout the next day's mountain walk was 'never let yourself get between a goat and a cliff's edge'.
Wise words Dr Andy. Wise Words.
After the goat, it was mostly just walking, and views. By which I mean, Views.
At one point in our relationship, possibly during the year in which his new year's resolution was to 'be more pretentious', Andy discovered or decided that the word 'sublime' should be selectively used to describe landscapes.
And he used it a lot.
It's amazing how quickly a simple word can be come a trigger.
In any case, enough years have passed that I can now say, without even twitching, that these landscapes were sublime.
At one point in our stroll Andy disappeared, and then reappeared on a small perch.
The path on Funtes De doesn't make a circle, so at one point, you simply have to decide to turn around, and go back.
No  want to drive through the crazy winding roads after dark, with said our goodbyes to the goats, and shuttled on down to the car.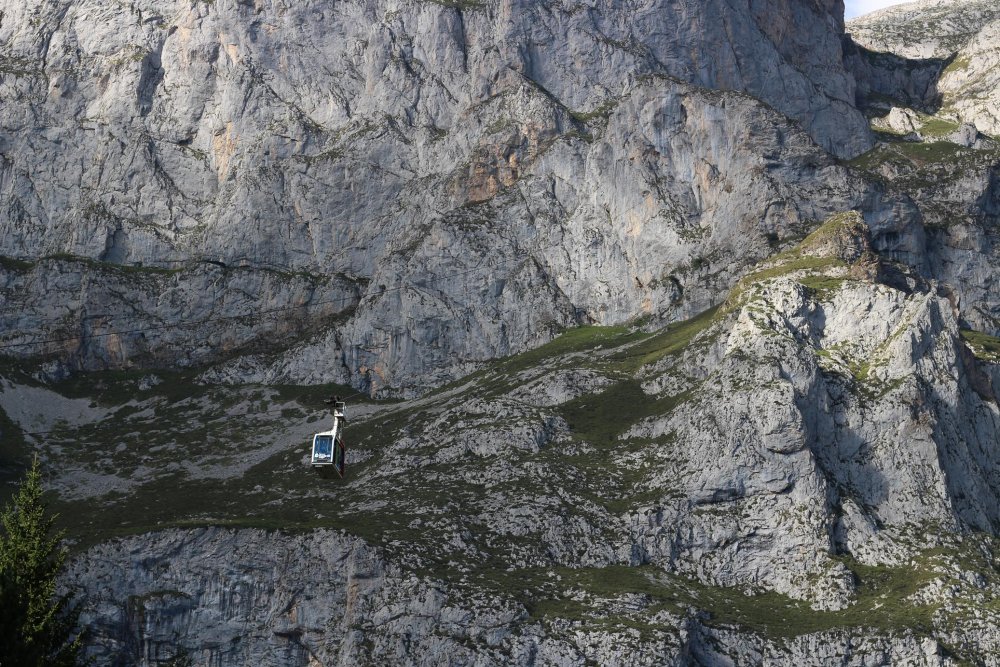 And that was it from the mountains.
Until the next morning..